RAHUL LIMAYE- The man behind the legend
...............How about an 'assal' Maharashtrian running a Chinese restaurant?
Well, he may not be a Chef, but Harabhara Kabab is his innovation.
Rahul Limaye is not your stereotype restaurateur.At 52 years of age,
he may be a Diploma holder in Hotel Management and Catering Technology
but his knowledge of local recipes and adapting an oriental menu to the
Indian palette is what comes naturally to him. He became the first Maharashtrian ,
after Late Mr. Nanal of Chop Suey (which is non-existent now), to start a Chinese restaurant
with a bar in Mumbai.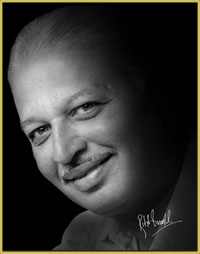 ............. Rahul's main hobby is to experiment and innovate not only in the food but also in ambience
and other key aspects of restaurant operations as well. It is this trait that has given him the recognition
of a successful restaurateur for the last twenty six years. While for people close to him,
he's simply the 'Gypsyman'. Each of his delicacies is highly appreciated even today by his esteemed
guests from homeland as well as abroad.
................A humble Maharashtrian at heart and a strong believer in God he never fails to acknowledge
his hard working staff and loyal clientele.